2020 UC MEXUS-Conacyt Collaborative Research Grants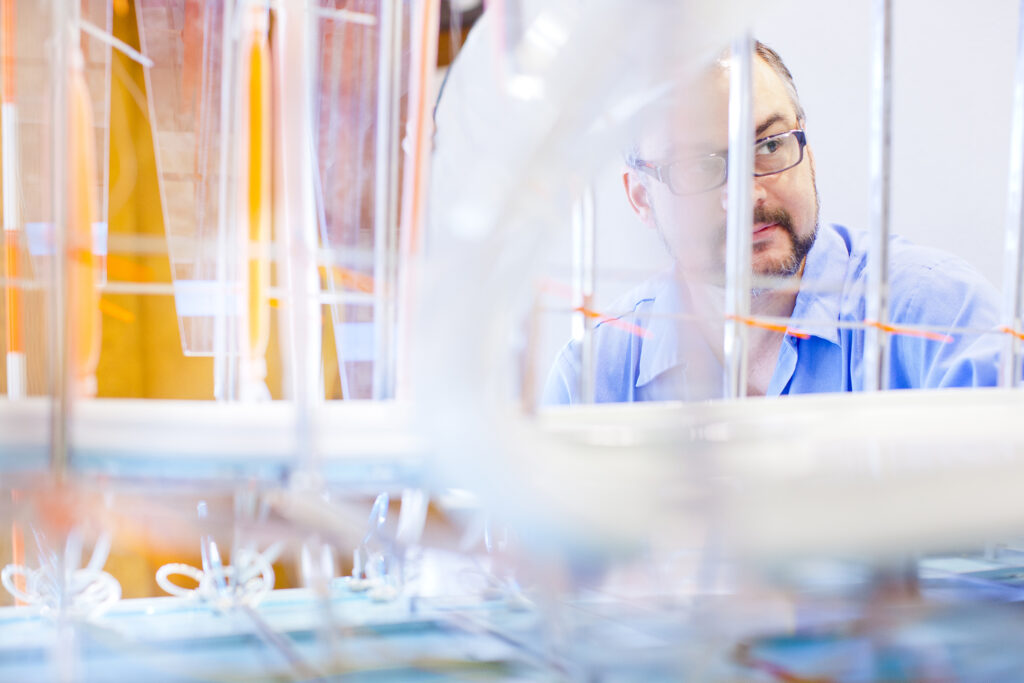 Barbara Blanco-Ulate, Plant Science, UC Davis María Elena Santos Cervantes, Biotecnología Agrícola, Centro Interdisciplinario para el Desarrollo Integral Regional Unidad Sinaloa del Instituto Politécnico Nacional
Analysis of the cuticular resistance of papaya fruits (Carica papaya L.) to Colletotrichum gloeosporioides and Colletotrichum truncatum / Análisis de la resistencia cuticular de frutos de papaya (Carica papaya L.) a Colletotrichum gloesporioides y Colletotrichum truncatum
Angela Brooks, Biomolecular Engineering, UC Santa Cruz Rebeca Débora Martínez Contreras, Instituto de Ciencias, Benemérita Universidad Autónoma de Puebla
Identification and reprogramming alternative splicing signatures relevant in prostate and breast cancer for the Mexican population / Identificación y re-programación de firmas de splicing alternativo relevantes para cáncer de próstata y de mama para la población mexicana 
Mu-Chun Chen, Physics and Astronomy, UC Irvine Saúl Ramos Sánchez, Depto. Física Teórica, Instituto de Física, Universidad Nacional Autónoma de México
Solving the flavor puzzle of particle physics / Resolviendo el problema de sabor de la física de partículas
Quan Cheng, Chemistry, UC Riverside Nancy Edith Ornelas Soto, Escuela de Ingeniería y Ciencias, Tecnológico de Monterrey
Development of SPR immunosensors for the detection of Contaminants of Emerging Concern in water resources / Desarrollo de inmunosensores SPR para la detección de Contaminantes de Preocupación Emergentes en fuentes de agua
Charles Chiu, Laboratory Medicine, UC San Francisco Rosa Elena Sarmiento Silva, Microbiología e Inmunología, Universidad Nacional Autónoma de México
Viral metagenomic analysis in sylvatic reservoirs and vectors of tropical areas with high biological diversity in Mexico / Metagenómica viral en hospederos selváticos y vectores de zonas tropicales con alta diversidad biológica en México 
Scott Dawson, Microbiology and Molecular Genetics, UC Davis M. Guadalupe Ortega-Pierres, Departmento de Genética y Biología Molecular, Centro de Investigación y de Estudios Avanzados IPN
Bioluminescent imaging of Giardia metabolism and role of parasite´s virulence  factors in host intestinal pathogenesis / Imágenes bioluminiscentes del metabolismo de Giardia y el papel de los factores de virulencia del parásito en la patogénesis intestinal del huésped
Brandon Gaut, Ecology & Evolutionary Biology, UC Irvine Valeria Souza Saldívar, Instituto de Ecología, Universidad Nacional Autónoma de México
Landscape genomics of Xylella fastidiosa in Mexico and Southern California / Genomica del paisaje en Xylella fastidiosa en México y en el Sur de California
Emilie Hafner-Burton, School of Global Policy and Strategy, UC San Diego Hugo Concha Cantú, Instituto de Investigaciones Jurídicas, Universidad Nacional Autónoma de México
Perceptions on Mexican Democratic Institutions: A Survey of Experts and Citizens / Percepciones sobre las Instituciones mexicanas democráticas: Una encuesta a expertos y ciudadanos
Linda Hirst, Physics, UC Merced Rodrigo Sánchez García and Orlando Guzmán López, Física, Universidad Autónoma Metropolitana - Iztapalapa
Nanoscale active nematics: pushing the lengthscale limit through rational design / Nemáticos activos a nanoescala: alcanzando el límite de escala de longitud a través del diseño racional 
Claudia Holguín Mendoza, Hispanic Studies, UC Riverside María Angélica Castro Caballero, Facultad de Arquitectura y Diseño, Universidad Autónoma de Baja California
Research on Critical and Inclusive Pedagogies, and Relational Structure for the creation of innovative Spanish teaching materials for Deaf people in higher education on the U.S.-Mexico border / Investigación en Pedagogías Críticas e inclusivas y la Estructura Relacional para la innovación de materiales didácticos en español para las personas Sordas universitarias en la frontera entre México y Estados Unidos
Anthony Jerry, Anthropology, UC Riverside Edgar Robles Zavala, Biología Marina, Universidad del Mar
The impact of Climate Change and the Limits to Local Development in the African Descendant Communities of the Lagunas de Chacahua / El Impacto del Cambio Climático y las Limitaciones al Desarollo local en las Comunidades Afrodescendientes en Las Lagunas de Chacahua
Hailing Jin, Microbiology & Plant Pathology, UC Riverside Mario Arteaga-Vázquez, Instituto de Biotecnología y Ecología Aplicada, Universidad Veracruzana
Functional Genomics of Primitive Plant-Fungal Cross-Kingdom Communication / Genómica Funciona de la Comunicación Primitiva a Través de los Reinos Entre Plantas y Hongos
Clifford Kubiak, Chemistry & Biochemistry, UC San Diego Goldie Harikrishna Oza, Laboratorio Nacional de Micro y Nanofluidica, Centro de Investigación y Desarrollo Tecnológico en Electroquímica Jesús Adrían Díaz-Real, Coordinación de Energía, CIDETEQ S.C.
Towards artificial photosynthetic CO2 reduction- Perovskite coupled P2N2 catalyst based photoelectrochemical microfluidic system / Hacia la reducción fotosintética artificial de CO2 – Sistema microfluídico fotoelectroquímico con base en catalizadores de perovskitas decorados con P2N2
Ohyun Kwon, Department of Chemistry & Biochemistry, UC Los Angeles Rubén Omar Torres Ochoa, Departamento de Química Orgánica, Universidad Nacional Autónoma de México
C(sp3)–C(sp) bond formation via a copper(I)-catalyzed dealkenylative alkynylation / Formación de enlace C(sp3)–C(sp) mediada por cobre(I) a través un proceso de dealquenilación-alquinilación
Markita Landry, Chemical and Biomolecular Engineering, UC Berkeley Edmundo Lozoya Gloria, Ingeniería Genética, Centro de Investigación y de Estudios Avanzados -IPN Unidad Irapuato
Genome editing in plants and microalgae with nanoparticle carriers / Edición del genoma en plantas y microalgas con portadores de nanopartículas
Alana M LeBrón, Population Health & Disease Prevention, UC Irvine María de Lourdes Camarena-Ojinaga, Facultad de Ciencias Sociales y Administrativas, Universidad Autónoma de Baja California
US Immigrant and Migratory Policies and the Wellbeing of Mexican Indigenous Migrant Farmworker Women: A Transnational Approach / Implicaciones de la Política Migrante y Migratoria Estadounidense Actual en el Bienestar de Mujeres Jornaleras Indígenas Migrantes de México: Una Visión Trasnacional
James Letts, Molecular and Cellular Biology, UC Davis Oscar Flores-Herrera, Bioquímica, Universidad Nacional Autónoma de México
Building a mechanistic understanding of respiratroy supercomplexes using the model fungal phytophathogen Ustilago maydis / Construyendo una conprensión mechnística del supercomplejo respiratorio usando al hongo fitopatógeno Ustilago maydis como modelo
Amy Litt, Botany and Plant Sciences, UC Riverside Laura Trejo-Hernández, Laboratorio Regional de Biodiversidad y Cultivo de Tejidos Vegetales, Universidad Nacional Autónoma de México
Phylogeographic history of Mexican manzanita: shedding light on the diversity of the California Floristic Province
Roberto Manduchi, Computer Science and Engineering, UC Santa Cruz Joaquín Salas, Centro de Investigación en Ciencia Aplicada y Tecnología Avanzada, Instituto Politécnico Nacional - Queretaro
Tracking Poverty between Census Years: Mapping Vulnerable Communities Sprawl via Satellite Imagery and Ground Surveys / Seguimiento de la Pobreza entre Censos: Mapeo de la Dispersión de Comunidades Vulnerables a través de Imágenes Satelitales y Encuestas en Campo
Craig McIntosh, School of Global Policy and Strategy, UC San Diego Mauricio Romero, Economía, Instituto Tecnológico Autónomo de México
The effect of wage transparency: Experimental evidence from Mexico / El efecto de la transparencia de salarios: Evidencia experimental de México
Carl Melis, Center for Astrophysics and Space Sciences., UC San Diego Miguel Chávez Dagostino, Coordinación de Astrofísica, Instituto Nacional de Astrofísica, Óptica y Electrónica
Rise of the Phoenix Giants: exploring the origin of reborn first-ascent giant stars / El Ascenso de las Gigantes Fénix: explorando el origen del renacimiento de estrellas gigantes
Ana Maria Mora-Wyrobek, School of Public Health, UC Berkeley Cynthia Armendáriz Arnez, Laboratorio de Contaminación y Salud Ambiental, Escuela Nacional de Estudios Superiores Unidad Morelia, Universidad Nacional Autónoma de México
A community-based participatory approach to assess the effects of pesticide exposure on the health of farm workers from avocado plantations in Michoacán, Mexico / Un enfoque participativo basado en la comunidad para evaluar los efectos de la exposición a plaguicidas en la salud de trabajadores agrícolas de plantaciones de aguacate en Michoacán, México
Atul Parikh, Biomedical Engineering, UC Davis Christian Sohlenkamp, Centro de Ciencias Genómicas, Universidad Nacional Autónoma de México
Biophysics of phosphorus-free Microbial Lipids / Biofísica de lípidos microbianos que carecen de fosfato
Paul (Ed) Parnell, Integrative Oceanography Division, UC San Diego Lydia Ladah, Departamento de Oceanografía Biológica, Centro de Investigación Científica y de Educación Superior de Ensenada
How do kelp forests survive thermal stress at their southern limit in Mexico and could they help restore California's kelp populations in a future warm ocean? / ¿Cómo es que los bosques de kelp sobreviven estrés termal en su límite sur de distribución en México y pueden ser utilizados en la restauración de las poblaciones de California en un mar futuro más cálido?
Laurel Riek, Computer Science and Engineering, UC San Diego Jesús Favela, Departamento de Ciencias de la Computación, Centro de Investigación Científica y de Educación Superior de Ensenada
Socially-Assistive Robots for Dementia Care / Robots de Asistencia Social en la Atención de la Demencia
Sebastian Saiegh, Political Science, UC San Diego Francisco Garfias, School of Global Policy and Strategy, UC San Diego Juan Pablo Micozzi and Adrían Lucardi, Ciencia Política, Instituto Tecnológico Autónomo de México
Democracy, Federalism, and Political Careers in the Contemporary Mexico: Towards a Comprehensive Perspective / Democracia, federalismo y carreras políticas en el México contemporaneo: Hacia una perspectiva integral
Samuel Sandoval Solis, Department of Land, Soil and Water, UC Davis Leopoldo Mendoza Espinosa, Instituto de Investigaciones Oceanológicas, Universidad Autónoma de Baja California
The impact of changes in the water allocations of the Colorado river on agricultural and urban users in Baja California / El impacto de los cambios en las asignaciones del agua del río Colorado en los usuarios agrícolas y urbanos de Baja California
Edward Schwieterman, Earth and Planetary Sciences, UC Riverside Antigona Segura, Instituto de Ciencias Nucleares, Universidad Nacional Autónoma de México
Early Earth as an exoplanet: The impact of stellar flares on atmospheric chemistry and remote signatures / La Tierra temprana como exoplaneta: impacto de fulguraciones estelares en la química atmosférica y señales remotas
Nicole Steinmetz, Department of Nanoengineering/Center for Nano-Immuno-Engineering, UC San Diego Abel Gutiérrez Ortega, Biotecnología Médica y Farmacéutica, Centro de Investigación y Asistencia en Tecnología y Diseño del Estado de Jalisco
Assessment of Potyvirus-like particle antigen payload by means of chemical coupling for enhancing the immunogenicity to a Zika virus antigen / Evaluación de la capacidad de carga de antígenos por partículas Potyvirales semejantes a virus mediante acoplamiento químico para potenciar la inmunogenicidad hacia un antígeno del virus de Zika
Sangwon Suh, Bren School of Environmental Science & Management, UC Santa Barbara Adrián Ghilardi, Centro de Investigaciones en Geografía Ambiental, Universidad Nacional Autónoma de México
Modeling life-cycle environmental impacts of woodfuel use: development and application of MoFuSS-LCA / Modelado del ciclo de vida de los impactos ambientales por uso de combustibles de madera: desarrollo y aplicación de la herramienta MoFuSS-LCA
Shahar Sukenik, Chemistry and Chemical Biology, UC Merced César Luis Cuevas Velázquez, Departamento de Bioquímica/Facultad de Química, Universidad Nacional Autónoma de México
Environmental sensitivity of dehydration-induced intrinsically disordered plant proteins / Sensibilidad al ambiente de proteínas intrínsecamente desordenadas de plantas inducidas por deshidratación
Amber VanDerwarker, Anthropology, UC Santa Barbara Lourdes Budar, Antropología, Universidad Veracruzana
Gulf Lowland Agricultural Strategies / Estrategias agrícolas de las tierras bajas del Golfo
Akula Venkatram, Mechanical Engineering, UC Riverside José Huertas, Ingeniería Mecánica, Tecnólogico de Monterrey
The effects of the road transport system on human health, urban planning, smart mobility and air quality / Los efectos del sistema de transporte terrestre en la salud humana, la planeación urbana, la movilidad inteligente y la calidad del aire
Luat Vuong, Mechanical Engineering, UC Riverside Víctor Ruiz Cortés, Departamento de Óptica / División de Física Aplicada, Centro de Investigación Científica y de Educación Superior de Ensenada
Control of the light-actuated self-assembly of metal nano-particles with an optical tweezers system / Control del autoensamblaje de nano-partículas metálicas activado por luz en un sistema de pinzas ópticas
Joseph Wang, Nanoengineering, UC San Diego Rafael Vázquez-Duhalt, Bionanotecnolgía, Centro de Nanociencias y Nanotecnología, Universidad Nacional Autónoma de México
Enhancement of L-lactate oxidase activity in acidic pH by modulating the pKa of the catalytic residue His 265 by site directed mutagenesis / Optimización de la actividad de la L-lactato oxidasa en pH ácido por modulación del pKa del residuo catalítico His 265 por mutación sitio dirigida
Weijian Yang, Electrical and Computer Engineering, UC Davis Israel Rocha-Mendoza, Departamento de Ópica, Centro de Investigación Científica y de Educación Superior de Ensenada
Simultaneous Multiplane Light-sheet Microscopy / Microscopía con hojas de luz multiplanares simultáneas
María Teresa (Maite) Zubiaurre, Department of Germanic Languages/Spanish and Portuguese, UC Los Angeles Sergio Prieto Díaz and Abbdel Carmargo, Grupo Académico Migración y Procesos Transfronterizos, Departamento de Sociedad y Ambiente, El Colegio de la Frontera Sur (Campeche)
Mapping Transborder Complexity: Bridges between Southern Borders / Cartografías de la Complejidad Transfronteriza: puentes entre Fronteras Sur