2018 UC MEXUS-CONACYT Collaborative Research Grant Awards
The 2018 UC MEXUS-CONACYT Collaborative Research Grants competition provided grant awards to 34 projects by co-Principal Investigators from the UC system and Mexican partner institutions. Names of PIs, institutional affiliations, and project titles are listed below.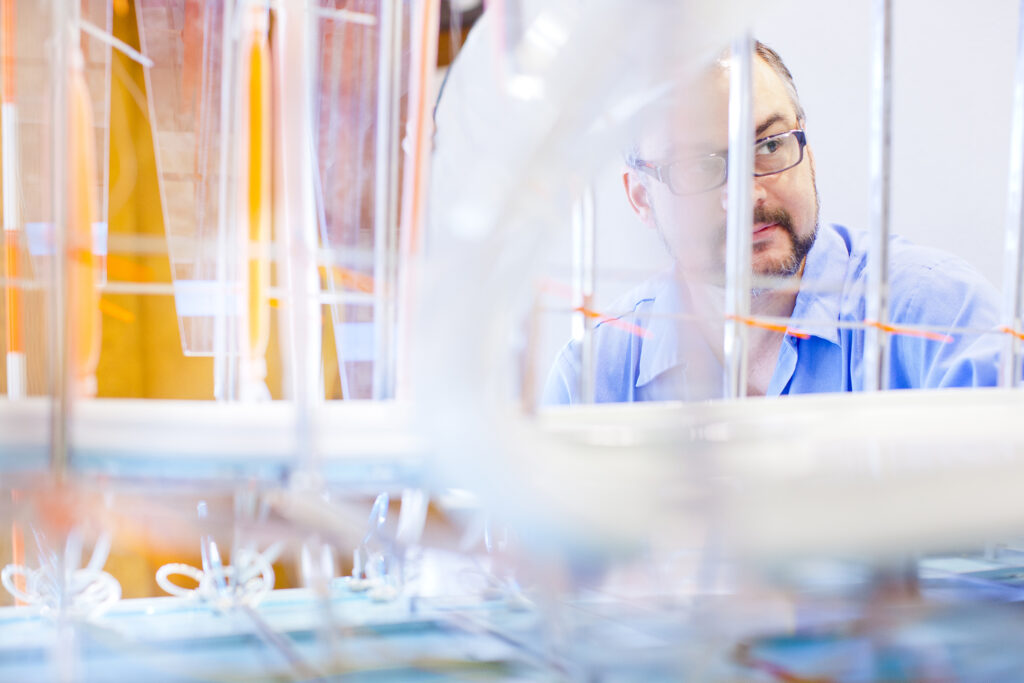 Ludmil B. Alexandrov, Cellular and Molecular Medicine, UC San Diego
Carla Daniela Robles Espinoza, Laboratorio Internacional de Investigación sobre el Genoma Humano, UNAM
Identification of germline DNA variants that influence the tumour somatic profile in melanoma / Identificación de variantes genéticas de línea germinal que influyen en el perfil somático del melanoma
Raul Andino-Pavlovsky, Microbiology and Immunology, UC San Francisco
Humberto Lanz Mendoza, Centro de Investigación sobre Enfermedades Infecciosas, INSP
Leveraging mosquito antiviral immunity to detect viral infection: Towards a scalable field-based approach for predicting arbovirus epidemics / Usando la inmunidad antiviral para detectar infecciones virales: Hacia una estrategia de predicción de epidemias causadas por arbovirus
J. Michael Beman, Life and Environmental Science, UC Merced
José Quinatzin García Maldonado, Recursos del Mar, CINVESTAV-IPN, Mérida
Metagenomics and microbial ecology of carbon cycling and sinks in the water column and sediments of the Eastern Pacific Ocean / Metagenómica y Ecología Microbiana del ciclo del carbono y sumideros en la columna de agua y sedimentos del Este del Oceano Pacífico
Alan Bennett, Plant Sciences, UC Davis
Javier López-Baltazar, Ingenierías, Instituto Tecnológico del Valle de Oaxaca
Nitrogen fixation associated with an indigenous landrace of maize / Fijación de nitrógeno asociada a una variedad autóctona de maíz
Fabian Bombardelli, Civil and Environmental Engineering, UC Davis
Amaia Ruíz de Alegría-Arzaburu, Instituto de Investigaciones Oceanológicas, UABC
Understanding physical processes and water-quality transport mechanisms in Californian small coastal inlets for resilient coastal systems under scenarios of climate change / Entendiendo los procesos físicos y los mecanismos de transporte de calidad de aguas en pequeñas ensenadas costeras de California para obtener sistemas costeros resilientes bajo escenarios de cambio climático
James Borneman, Microbiology and Plant Pathology, UC Riverside
Edgardo Alfredo Sepúlveda Sánchez Hidalgo, Microbiología, CICESE
Bioprospecting and Characterization of Microbial Communities / Bioprospección y Caracterización de Comunidades Microbianas
Paulo C. Chagas, Music, UC Riverside
Jorge Rodrigo Sigal Sefchovich, Música y Tecnología Artística/CMMAS, Escuela Nacional de Estudios Superiores, UNAM, Campus Morelia
Sound, Space, and Affect in Immersive Sound Systems / Sonido, espacio y afecto en los sistemas de sonido imersivo
Camille Crittenden, CITRIS, UC Berkeley
Fernando Gutiérrez and Dora García-González, Escuela de Humanidades y Educación, ITESM
Equidad Digital: The social and human rights impacts of AI-enabled decision-making in Mexico / Equidad digital: Impactos sociales y en los derechos humanos de la toma de decisiones habilitada por la IA en México
Katayoon Dehesh, Institute for Integrative Genome Biology, UC Riverside
Patricia León Mejía, Biología Molecular de Plantas, Instituto de Biotecnología, UNAM
Defining transcriptional and posttranslational dynamics of the MEP pathway regulation / Definiendo la dinámica de la regulación transcripcional y postranscripcional de la vía MEP en plantas
Ruth Finkelstein, Molecular, Cellular, and Developmental Biology, UC Santa Barbara
Fabioloa Jaimes Miranda, Biología Molecular, Instituto Potosino de Investigación Científica y Tecnológica, A.C.
Experimental reconstruction of ABA-ethylene gene regulatory network interactions in tomato fruit ripening / Reconstrucción experimental de la red de regulación transcripcional de la interacción ABA- etileno en la maduración del fruto de jitomate
Winifred Frick, Ecology and Evolutionary Biology, UC Santa Cruz
Verónica Zamora Gutiérrez, Academia de Ecología y Sistemática, Centro Interdisciplinario de Investigación para el Desarrollo Integral Regional-IPN, Unidad Durango
Tracking bats for conservation: A collaborative study on the foraging behavior of nectar-feeding bats / Rastreando murciélagos por la conservación: Estudio colaborativo sobre el comportamiento de forrajeo de los murciélagos nectarívoros
Matthew Gilbert, Plant Sciences, UC Davis
José C. Cervera Herrera, Ecología Tropical, Universidad Autónoma de Yucatán
Impact of leaf width on water use efficiency and drought tolerance of tepary beans / Impacto del grosor de hoja sobre la eficiencia de uso de agua y tolerancia a la sequia de frijol
Erin Hamilton, Sociology, UC Davis
Silvia E. Giorguli-Saucedo, Centro de Estudios Demograficos, Urbanos, y Ambientales, El Colegio de México
Understanding Child Migration from the United States to Mexico / Comprendiendo la migración de menores desde Estados Unidos a México
Robert M. Irwin, Spanish and Portuguese, UC Davis
Maricruz Castro Ricalde, Escuela de Humanidades y Educación, ITESM
Luis Rodolfo Morán Quiroz, Sociología, Universidad de Guadalajara Abraham Paniagua, Facultad de Ciencias Políticas y Sociales, Universidad Autónoma de Chihuahua
Humanizing Deportation: A Digital Storytelling Project / Humanizando la Deportación: Un Proyecto de Narrativa Digital
Jay Keasling, Chemical and Biomolecular Engineering and Bioengineering, UC Berkeley
Cuauhtémoc Licona-Cassani, Centro de Biotecnologia FEMSA, ITESM
An evolution-guided synthetic biology approach to accelerate early-stage natural product discovery / Diseño de un sistema de biología sintética basado en conceptos evolutivos para acelerar etapas tempranas del descubrimiento de productos naturales
Ermias Kebreab, Animal Science, UC Davis
Octavio Alonso Castelán Ortega, Facultad de Medicina Veterinaria y Zootecnia, UNAM
Development of the enteric methane emissions inventory for cattle in Mexico through in vivo and in silico methodologies / Desarrollo del inventario de emisiones de metano por fermentación enterica para el ganado bovino de México a través del uso de metodologías in vivo e in silico
Arturo Keller, School of Environmental Science and Management, UC Santa Barbara
Cristina del Carmen Torres-Duarte, Tecnología Ambiental, Centro de Investigación y Asistencia en Tecnología y Diseño del Estado de Jalisco
Magnetic permanently confined micelle arrays (Mag-PCMAs) for the elimination of emerging contaminants from environmental samples from Lake Chapala / Arreglos de micelas magnéticas permanentemente confinadas (Mag-PCMAs) para la eliminación de contaminantes emergentes de muestras ambientales del Lago de Chapala
Yat Li, Chemistry and Biochemistry, UC Santa Cruz
Beatriz Liliana España Sánchez, Lilian Iraís Olvera Garza, and José Antonio Avila Niño, Subdirección de Procesos Industriales y Recubrimientos, Centro de Investigación y Desarrollo Tecnológico en Electroquímica, S.C.
Polymer Derived Carbon Nanostructures for Lithium-Sulfur Batteries / Nanocompuestos poliméricos con nanoestructuras de carbono para Baterias de Litio-Azufre
David López-Carr, Geography, UC Santa Barbara
Armando Sánchez Vargas, Instituto de Investigación Económica, UNAM
Extreme Heat and Migrant Workers: Enhancing Health Resilience and Productivity / Trabajadores migrantes y calor extremo: Mejorar la resiliencia y la productividad de la salud
Rachel W. Martin, Chemistry, UC Irvine
Vera Liliana Quintanar, Química, CINVESTAV-IPN
Spectroscopic and Biophysical Investigation of Metal-Ion Induced Aggregation of Eye Lens Proteins / Investigación espectroscópica y biofísica de la agregación inducida por iones metálicos de proteínas del lente ocular
Monica Martinez, Mechanical and Chemical & Environmental Engineering, UC Riverside
Francisco Cuenca Jiménez, División de Ingeniería Mecánica e Industrial, UNAM
Engineering a new generation of underwater robots / Desarrollo de una nueva generación de submarinos robóticos
(GEORGE BROWN AWARD)
Jennifer B. H. Martiny, Ecology and Evolutionary Biology, UC Irvine
Ana Elena Escalante Hernández, Instituto de Ecología, UNAM
Functional significance of microbial diversity in arid soils: Biological soil crusts and nitrogen fixation as study model / La relevancia funcional de la diversidad microbiana en suelos áridos: Costras biológicas y fijación de Nitrógeno como modelo de estudio
Robin Matoza, Earth Science, UC Santa Barbara
Maria Alejandra Arciniega Ceballos, Vulcanología, Instituto de Geofísica, UNAM
Seismic and infrasonic signature of explosive eruptions at Popocatépetl volcano, México / Firma sísmica e infrasónica de erupciones explosivas en el volcán Popocatépetl, México
Sandra I. McCoy, Epidemiology, UC Berkeley
Sergio Bautista-Arredondo, Centro de Investigación en Sistemas de Salud, Instituto Nacional de Salud Pública
Towards rigorous innovation: Combining human-centered design, behavioral science, and impact evaluation for public health / Hacia una innovación rigurosa: Combinando el Diseño Centrado en Humanos, las Ciencias del Comportamiento y la Evaluación de Impacto para la salud pública
Dawn Nagel, Botany and Plant Sciences, UC Riverside
Julián Mario Peña Castro, Instituto de Biotecnología, Universidad del Papaloapan
Circadian clock control and biotechnological potential of carbon-conservation regulators belonging to the bZIP transcription factors in plants / El control por el reloj circadiano y el potencial biotecnológico de los reguladores de conservación de carbono pertenecientes a los factores de transcripción bZIP en plantas
Matthew Settles, Bioinformatics Core, Genome Center, UC Davis
Angélica Cibrián Jaramillo, Laboratorio Nacional de Genómica para la Biodiversidad, Genómica Avanzada, CINVESTAV-IPN
Genomics of vanilla (Vanilla planifolia) and its microbiomes / Genómica de la vainilla (Vanilla planifolia) y la microbiomes
Martha Lucia Orozco-Cárdenas, Botany and Plant Sciences, UC Riverside
Abraham Cruz-Mendívil, Biotecnología Agrícola, CIIDIR-IPN, Sinaloa
In vitro culture and genetic transformation of papache (Randia echinocarpa), a medicinal plant from northwestern Mexico / Cultivo in vitro y transformación genética de papache (Randia echinocarpa), una planta medicinal del noroeste de México
Qibing Pei, Materials Science and Engineering, UC Los Angeles
Jorge Roberto Oliva Uc, Cerámicos y Polímeros, Universidad Autónoma de Coahuila
Efficient and Low-Cost Multicolor Light-Emitting Electrochemical Cells for Electronic Paper Applications / Celdas Electroquímicas Emisoras de Luz Eficientes y de Bajo Costo para Aplicaciones de Papel Electrónico
Erica Rosenblum, Environmental Science, Policy and Management, UC Berkeley
Gabriela Parra Olea, Zoologia, Instituto de Biología, UNAM
Quitridiomycosis in Mexico: Historical and current impact of Batrachochytrium dendrobatidis in critically endangered species of amphibians / La quitridiomicosis en anfibios de México: Impacto histórico y actual por la presencia de Batrachochytrium dendrobatidis en especies en peligro crítico de extinción
Martin Tresguerres, Scripps Institution of Oceanography, UC San Diego
Gloria Yépiz-Plascencia, Tecnología de Alimentos de Origen Animal, Centro de Investigación en Alimentación y Desarrollo, A.C.
Role of Glyceraldehyde phosphate dehydrogenase in the response to hypoxia in the white shrimp Litopenaeus vannamei / Gliceraldehido fosfato deshidrogenasa en la respuesta a la hipoxia en el camarón blanco Litopenaeus vannamei
Jose Pablo Vázquez-Medina, Integrative Biology, UC Berkeley
Tania Zenteno-Savín, Programa de Planeación Ambiental y Conservación, CIBNOR, S.C. Jorge Urbán Ramírez, Biología Marina, Universidad Autónoma de Baja California Sur
Cellular models for the study of stress responses in baleen whales / Modelos celulares para el estudio de respuestas a estrés en ballenas barbadas
Ameae Walker, Biomedical Sciences, UC Riverside
Teresa Morales Guzmán, Instituto de Neurobiología, UNAM
Prolactin Modulation of Microglial Function During Kainic Acid-Induced Excitotoxicity / Modulación de la Función Microglial por Prolactina Durante la Excitotoxicidad Inducida por Ácido Kaínico
José Wudka, Physics and Astronomy, UC Riverside
Eduardo Peinado Rodríguez, Física Teórica del Instituto de Física, UNAM
Dark Matter and Neutrino Physics / Materia oscura y física de neutrinos
Pamela Yeh, Ecology and Evolutionary Biology, UC Los Angeles
Ayari Fuentes Hernández, Laboratorio de Biología de Sistemas y Biología Sintética, Centro de Ciencias Genómicas, UNAM
Multi-scale approaches to understanding and combating the evolution of antibiotic resistance in bacteria: From single cells to populations / Enfoque multiescalas para entender y combatir la evolución de resistencia a antibióticos: Desde células individuales hasta poblaciones