2019 UC MEXUS-CONACYT Collaborative Research Grant Awards
The 2019 UC MEXUS-CONACYT Collaborative Research Grants competition provided grant awards to 40 projects by co-Principal Investigators from the UC system and Mexican partner institutions. Names of PIs, institutional affiliations, and project titles are listed below.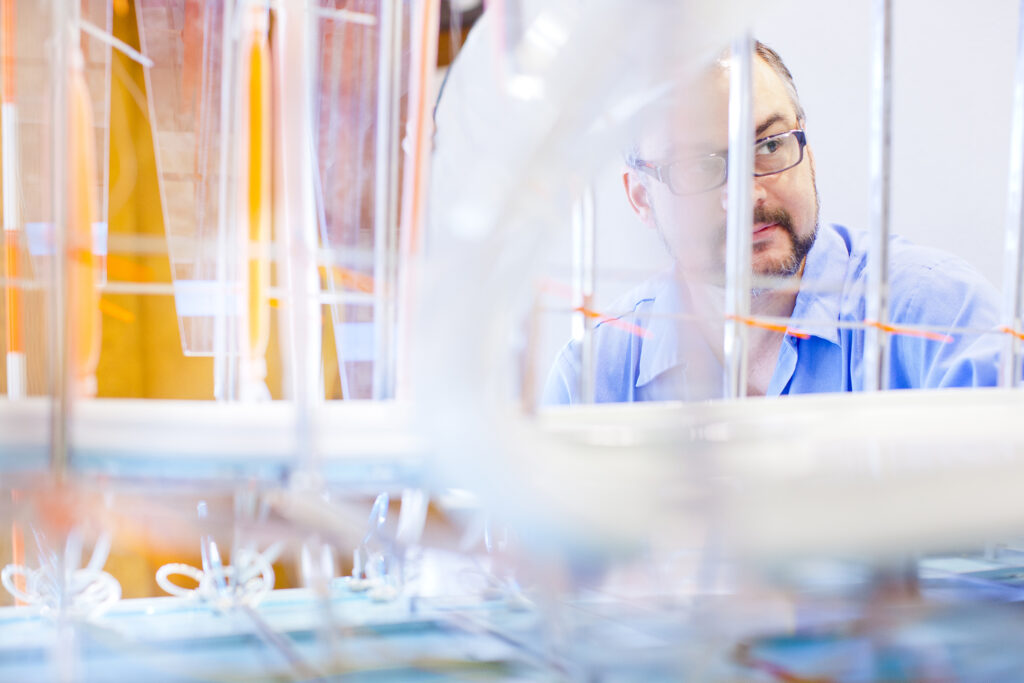 Farooq Azam, Marine Biology Research Division - Scripps Institution of Oceanography, UC San Diego
Laura Gómez-Consarnau, Ocenografía Biológica, CICESE
Understanding Marine Microbial Ecology Using Bacterial Cultures as Models: Study Case in the Upwelling Regions of the Southern California Bight / Estudio de la Ecología Microbiana Marina Utilizando Cultivos Bacterianos como Modelos: Caso Experimental en Zonas de Surgencia de la Cuenca Oceanográfica del Sur de California
Roya Bahreini, Environmental Sciences, UC Riverside
Dara Salcedo González, UMDI-Juriquilla Facultad de Ciencias, UNAM
Molecular Characterization of Organic Aerosols in the Regional Mixed Layer of the Mexico City Metropolitan Area Using Extractive Electrospray Ionization Mass Spectrometry / Caracterización Molecular del Aerosol Orgánico en la Capa de Mezcla Regional de la Zona Metropolitana de la Ciudad de México, Usando Espectrometría de Masas con Ionización por Electrospray Extractivo
Jessica Blois, Life and Environmental Sciences, UC Merced
Joaquín Arroyo-Cabrales, Subdirección de Laboratorios y Apoyo Académico, Instituto Nacional de Antropología e Historia
Range Shifts and Novel Communities: Catalyzing Global Change Research by Integrating Paleodata Across North and Central America / Cambios de Distribución y Comunidades Nuevas: Catalizando la Investigación del Cambio Global Integrando los Paleodatos a lo Largo de Norte y Centroamérica
Ricardo Castro, Materials Science and Engineering, UC Davis
José de Jesús Ku-Herrera and Gustavo Soria-Arguello, Síntesis de Polímeros, CONACYT-Centro de Investigación en Química Aplicada
Light and Resilient Blades for Vertical-Axis Wind Energy Turbines / Álabes Ligeros y Resilientes para Generación de Energía Eólica por Turbinas Verticales
Sean Cutler, Department of Botany and Plant Sciences, UC Riverside
Mario Serrano, Center for Genomic Sciences, UNAM
Characterization of Reactive Oxygen Species-Signaling Pathway by Chemical Genomics / Caracterización por medio de Genómica Química de la Ruta de Señalización Dependiente de Especies Reactivas de Oxígeno
Wolfgang Dillmann, Medicine, UC San Diego
Julieta Anabell Díaz Juárez, Farmacología, Instituto Nacional de Cardiología
Therapeutic Use of Macrophage-Derived Exosomes in Diabetic Cardiac Disease / Uso Terapéutico de Exosomas Derivados de Macrófagos en la Miocardiopatía Diabética
David FitzGerald, Center for Comparative Immigration Studies, UC San Diego
Rafael Guadalupe Alarcón Acosta, Departamento de Estudios Sociales, El Colegio de la Frontera Norte
Children of Mexican Parents Deported from the United States: Policy, Administrative Process and Family Experiences / Hijos de Padres Mexicanos Deportados de Estados Unidos: Políticas Públicas, Proceso Administrativo y Experiencias Familiares
William Gelbart, Chemistry & Biochemistry, UC Los Angeles
Armando Hernández García, Instituto de Química - Química de Biomacromoléculas, UNAM
Engineering Artificial Viral Coat Proteins as a Platform for Directed Evolution / Ingeniería de Proteínas Artificiales de Recubrimiento tipo Virus como Plataforma para Evolución Dirigida
Olivia Graeve, Mechanical and Aerospace Engineering, UC San Diego
Manuel Herrera-Zaldivar, Centro de Nanociencias y Nanotecnología, Departamento de Fisica, UNAM
Osteoinductive Scaffolds Based on Magnetic and Luminescent Hydroxyapatite Nanostructures for use as Bone Regeneration Sensors / Andamios Osteoinductores Basados en Nanoestructuras de Hidroxiapatitas Magnéticas y Luminiscentes para uso como Sensores de Regeneración Ósea
Sarah Hake, Plant and Microbial Biology, UC Berkeley
María Jazmín Abraham Juárez, Biología Molecular, Instituto Potosino de Investigación Científica y Tecnológica A.C. (IPICYT)
Developmental Patterning and Pathogen Defense Correlation Revealed by Autoimmune Maize Mutants / Correlación Entre Patrón de Desarrollo y Defensa Contra Patógenos Revelada por Mutantes Autoinmunes de Maíz
John Haviland, Anthropology, UC San Diego
Telma Angelina Can Pixabaj, Cosmovisión y Lenguas de la Frontera Sur, CIMSUR, UNAMJohn Haviland, Anthropology, UC San Diego
Coexpression and Multimodality in Linguistic Interaction in Mesoamerica / La Coexpresividad y la Multimodalidad en la Interacción Lingüística en Mesoamérica
Gretchen Hofmann, Ecology, Evolution, and Marine Biology, UC Santa Barbara
Eugenio De Jesús Carpizo Ituarte, Oceanografía Biológica, UABC
Climate-Proofing an Aquaculture Species: A Collaborative 'Proof of Concept' Project on Oysters / Poniendo a Prueba del Clima a una Especie de Acuacultura: Proyecto Colaborativo de "Prueba de Concepto" en Ostiones
Ali Khademhosseini, Bioengineering, Chemical Engineering and Radiology, UC Los Angeles
Grissel Trujillo de Santiago, Departamento de Mecatrónica, Tecnológico de Monterrey
Development of a Technology to Fabricate Artificial Thick Perfusable Tissues in a Facile and Rapid Fashion / Desarrollo de una Tecnología para Fabricar Tejidos Gruesos Perfundibles de una Manera Fácil y Rápida
Louise Laurent, Department of Obstetrics, Gynecology, and Reproductive Sciences, UC
San Diego Silvia Alejandra García Gasca, Molecular and Cellular Biology, Centro de Investigación en Alimentación y Desarrollo
A First Approximation in the Study of Global DNA Methylation and Microbiome Composition in Women with Gestational Diabetes Mellitus / Primera Aproximación al Estudio de la Metilación Global Del ADN y la Composición del Microbioma en Mujeres con Diabete Melitus Gestacional
Kenneth Loh, Structural Engineering, UC San Diego
Arturo Baltazar, Robotics & Advanced Manufacturing, CINVESTAV
Portable and Wearable Soft-Material-Actuated Haptic System / Sistema Háptico Portable y Portátil Accionado con Material Suave
Patricia Manosalva, Microbiology and Plant Pathology, UC Riverside
Sylvia Fernández-Pavía, Instituto de Investigaciones Agropecuarias y Forestales, Universidad Michoacana de San Nicolás de Hidalgo
Genotypic and Phenotypic Characterization of Phytophthora Cinnamomi Populations from Mexico and California Associated with Avocado Root Rot / Caracterización Genotípica y Fenotípica de las Poblaciones de Phytophthora Cinnamomi de México y California, Causante de la Pudrición Radical del Aguacate
Alfredo Martínez-Morales, Center for Environmental Research and Technology, UC Riverside
Ivan Velasco, Neurociencias, Instituto de Fisiología Celular, UNAM Jesús Enrique Estudillo Hernández, Dirección de Invesigación, Instituto Nacional de Neurología y Neurocirugía
Hollow Titanium Dioxide Nanospheres as a Delivery System of Chemoattractant Factors for Human Dopaminergic Axons / Liberación de Factores Quimioatrayentes para Axones Dopaminérgicos Humanos por Nanoesferas Vacías de Dióxido de Titanio
Manuel Navedo, Pharmacology, UC Davis
Ricardo Espinosa-Tanguma, Fisiología y Biofísica, Universidad Autónoma De San Luis Potosí, Escuela De Medicina
Calcium Dynamics of Migrating Vascular Smooth Muscle Cells during Diabetic Hyperglycemia: Role of L-type Calcium Channels, STIM1, Orai1 and Homer Proteins / Dinámica del Calcio en Células de Musculo Liso Vascular en Migración durante Hiperglucemia Diabética: Papel de los Canales de Calcio Tipo L, STIM1, Orai1, y la Proteína Homer
Rasmus Nielsen, Integrative Biology, UC Berkeley
Diego Ortega Del Vecchyo, Laboratorio Internacional de Investigación sobre el Genoma Humano, UNAM
Analysis of the Impact of Demography and Natural Selection Jointly using Present-Day and Ancient Samples / Análisis del Impacto de la Demografía y la Selección Natural Utilizando Muestras del Presente y del Pasado
Victor Nizet, Pediatrics, UC San Diego
Ismael Secundino-Velázquez, Facultad de Odontología, Universidad De La Salle Bajío
Modulation of Inflammatory Response to Prevent Dental Implant Rejection / Control de la Inflamación para Prevenir el Rechazo a Implantes Dentales
Martha Lucia Orozco-Cárdenas, Botany and Plant Sciences, UC Riverside
Carla Vanessa Sánchez Hernández, Producción Agrícola, CUCBA, Universidad de Guadalajara
Overexpression of Herbivore-Responsive Genes in Husk Tomato (Physalis philadelphica) / Sobreexpresión de Genes de Respuesta a Herbivoría en Tomate de Cáscara (Physalis philadelphica)
Rudy Ortiz, Department of Molecular Cell Biology, UC Merced
José Guadalupe Soñanez Organis, Ciencias Químico Biológicas y Agropecuarias/Ciencas e Ingeniería, Universidad de Sonor
Role of Perilipin Family in the Cardiac Lipid Metabolism During Physiological Hypertrophy Induced by Pregnancy / Papel de la Familia de Perilipinas en el Metabolismo de Lípidos Cardiacos Durante Hipertrofia Cardiaca Fisiologica Inducida por Embarazo
Paivi Pajukanta, Human Genetics, UC Los Angeles
Alicia Huerta-Chagoya, Unidad de Biología Molecular y Medicina Genómica, CONACYT, Instituto Nacional de Ciencias Médicas y Nutrición
Teresa Tusié-Luna, Unidad de Biología Molecular y Medicina Genómica, Instituto Nacional de Ciencias Médicas y Nutrición
Salvador Zubirán, Instituto de Investigaciones Biomédicas, UNAM
The Effects of Maternal Obesity on the Transcriptome of Placenta and Adipose Tissue: Its Relation with the Newborn's Phenotype / Los Efectos de la Obesidad Materna en los Transcriptomas de la Placenta y el Tejido Adiposo: Su Relación con el Fenotipo del Recién Nacido
Nicholas Pinter, Earth and Planetary Sciences, UC Davis
John M. Fletcher, División de Ciencias de la Tierra, Centro de Investigación Científica y de Educación Superior de Ensenada
Tectonics, Sea Level, and Interglacial Paleo-Environments of the Loreto Basin from Uplifted Coastal Terraces / Tectónica, Nivel del Mar y Paleoambientes Interglaciales de la Cuenca de Loreto desde Terrazas Costeras Elevadas
Jessica Purcell, Entomology, UC Riverside
Fernando Varela Hernández, Professional Institute of the Southern Region (IPRES), Universidad Autónoma del Estado de Morelos
On Genes, Behaviors, and Exploitation: Exploring the Causes and Consequences of Alternative Social Strategies along Latitudinal Gradients / Sobre Genes, Comportamientos y Explotación: Explorando las Causas y Consequencias de Estrategias Sociales Alternativas a lo Largo de Gradientes Latitudinales (GEORGE BROWN AWARD)
Kristen Ruegg, Institute for the Environment and Sustainability, UC Los Angeles
Richard Feldman, Recursos Naturales, Centro de Investigación Científica de Yucatán
Do Genomic Signals of Local Adaptation on the Breeding Grounds Predict Microclimate Associations on the Wintering Grounds? / ¿Pueden las Señales Genómicas de Adaptación Local a Sitios de Reproducción, Ayudar a Predecir Asociaciones Microclimáticas en Sitios Invernales?
Lynn Russell, Climate, Atmospheric Science & Physical Oceanography at Scripps Institution of Oceanography, UC San Diego
Victor Almanza, Modelado, LTM Center for Energy and the Environment A.C.
Air Quality Modeling Symposium and Training Workshop for Capacity Building in Mexico / Simposio y Taller de Capacitación de Modelación de la Calidad del Aire para la Creación de Capacidades en México
Laura Sales, Department of Physics & Astronomy, UC Riverside
Vicente Rodríguez-Gomez, Instituto de Radioastronomía y Astrofísica, UNAM
Galaxy Mergers in Different Environments: Using Cosmological Simulations to Solve the Mysteries of Diffuse Light in Galaxy Groups and Clusters / Fusiones de Galaxias en Distintos Ambientes: Usando Simulaciones Cosmológicas para Resolver los Misterios de la Luz Difusa en Grupos y Cúmulos de Galaxias
James Sickman, Environmental Sciences, UC Riverside
Vera Ingrid Gudrun Janine Tiesler, Facultad de Ciencias Antropológicas, Universidad Autónoma de Yucatán
Surviving the Maya Collapse in the Yucatan Peninsula: Reappraising Diets, Migrations, and Climate Changesthrough Isotopic Research / Sobreviviendo el Colapso Mayaen la Península de Yucatán: Una Revisión de Dietas, Migraciones y Cambios Climáticos a través de la Investigación Isotópica
Esteban Soto, Department of Medicine & Epidemiology, UC Davis
Francisco Neptalí Morales Serna, Unidad Mazatlán en Acuicultura y Manejo Ambiental, Centro de Investigación en Alimentación y Desarrollo A.C.
Efficacy of β Glucan as Immunostimulant to Pacific White Snook Centropomus Viridis / Eficacia del β Glucano como Inmunoestimulante para el Róbalo Centropomus viridis
Alejandro Sweet-Cordero, School of Medicine, UC San Francisco
Enrique Hernández-Lemus, Population Genomics, National Institute of Genomic Medicine (INMEGEN)
Computational Genomics for Personalized Breast Cancer Therapy / Genómica Computacional para la Terapia Personalizada del Cáncer de Mama
Kenichiro Tsukamoto, Anthropology, UC Riverside
Luis Barba, Instituto de Investigaciones Antropológicas, UNAM
Evaluating an Archetype of Classic Maya Marketplaces at El Palmar, Campeche, Mexico / Evaluando un Arquetipo de Mercados Mayas Clásicas en El Palmar, Campeche, México
Arturo Vargas-Bustamante, Health Policy and Management, UC Los Angeles
Mireya Vilar-Compte, Research Institute for Equitable Development (EQUIDE), Universidad Iberoamericana
How Anti-Immigrant Policies and Rhetoric Strengthen Access to Care Barriers Faces by Mexican Immigrants in the U.S. / Manera en que la Retórica y las Políticas Antiinmigrantes Fortalecen las Barreras de Acceso a los Servicios de Salud que Enfrentan los Inmigrantes Mexicanos en Estados Unidos
Oscar Vázquez Mena, NanoEngineering, UC San Diego
José Antonio Ávila Niño, Eduardo de Jesús Coutiño González, and Lilian Iraís Olvera Garza, Electroquímica, Centro de Investigación y Desarrollo Tecnológico en Electroquímica (CIDETEQ)
Green-Synthesized Semiconducting Polymers Blended with Quantum Dots for Organic Light Emitting Diodes (QOLEDs) / Polímeros Semiconductores Sintetizados a través de Química Verde Mezclados con Puntos Cuánticos para su uso en Diodos Orgánicos Emisores de Luz (QOLEDs)
Armando Villalta, Physiology and Biophysics and the Institute for Immunology, UC Irvine
Marco A. De León Nava, Departamento de Innovación Biomédica, DBEA, Centro de Investigación Científica y de Educación Superior de Ensenada (CICESE)
Harnessing Host-Pathogen Co-Evolution: Viral Proteins as Modulators of Helper and Regulatory T Lymphocyte Function / Aprovechando la Coevolución Entre Patógenos y Hospederos: Proteínas Virales como Moduladoras de la Función de Linfocitos T Colaboradores y Reguladores
Kerstin Wasson, Ecology and Evolutionary Biology, UC Santa Cruz
Julio Lorda Solórzano, Facultad de Ciencias, Universidad Autónoma de Baja California
International Olympia Oyster Network: Collaborative Research and Assessment of Management Goals in Baja California, Mexico / Red Internacional del Ostión Olympia: Investigación Colaborativa y Evaluación de Objetivos para su Manejo en Baja California, México
Ke Xu, Chemistry, UC Berkeley
Arturo Jiménez-Sánchez, Química Orgánica, UNAM
Development of Chemical Probes for Mitochondrial Dynamics Using Functional Super-Resolution Microscopy / Desarrollo de Sondas Químicas para la Dinámica Mitocondrial Mediante Microscopía de Superresolución Funcional
Omar Yaghi, College of Chemistry, Department of Chemistry, UC Berkeley
Edmundo Guzmán Percástegui, Instituto de Química, UNAM
Water-Soluble Cages that Transform into Multifunctional Metal-Organic Frameworks for Aqueous Applications / Cajas Solubles en Agua que se Transforman en Armazones Metal-Orgánicos Multifuncionales para Aplicaciones Acuosas
Jin Z Zhang, Biomolecular Science & Engineering, UC Santa Cruz
Tzarara López Luke, Ceramicos y Refractarios, UMSNH, Instituto de Investigaciones en Metalurgia y Materiales
Enhancing the Stability, Efficiency, and Color Tunability of Inorganic and Hybrid Perovskite Quantum Dots for LED Applications / Incremento de la Estabiliad, Eficiencia y Tunelamiento de Color de Puntos Cuanticos de Perovskita Inorganica e Hibridas para Aplicaciones en (Diodos Emisores de Luz) LEDs
Haofei Zhang, Department of Chemistry, UC Riverside
Omar Amador-Muñoz, Ciencias Ambientales, UNAM
Comprehensive Analysis of the Organic Aerosol Molecular Composition at a Receptor Sitein Mexico City and Their Role in Urban Air Quality / Análisis Integral de la Composición Molecular de Aerosoles Orgánicos en un Sitio Receptor en la Ciudad de México y su Impacto en la Calidad del Aire Urbano